Surakarta, July 20 2022 Prodi S1 – By : Triyono, Eko Surojo, Nurul Muhayat, Teguh Triyono, Sukmaji Indro C
Fatimah Ar Royyan Entrepreneurial Islamic Boarding School, as the name implies, the activities of Islamic boarding schools are to educate and train their students in entrepreneurship. This Islamic Boarding School was established in January 2020 and operated in August 2020 against the backdrop of deteriorating economic conditions due to the COVID-19 pandemic and the large number of young people dropping out/out of school because they were unable to pay school fees due to disrupted parents' economic activities. The curriculum of the Entrepreneurial Islamic Boarding School is designed to be completed for 1 year (2 semesters). The content of the curriculum is a combination of elements of religion, skills and entrepreneurship and social-society. The religious element is represented by memorizing and reading the Qur'an, the entrepreneurship element is represented by graphic design lessons, t-shirt screen printing and marketing, and the social-societal element is represented by moral lessons and social tasks. From the entrepreneurship curriculum, the Fatimah Ar Royyan Entrepreneurial Islamic Boarding School is a boarding school that can be empowered to become an independent Islamic boarding school that has a production unit. We can trace this from the activities of graphic design entrepreneurship KBM and t-shirt screen printing, the results of the santri practice are already worthy of being marketed. For this reason, the UNS Mechanical Engineering service team carried out treatment by implementing a teaching factory to produce products that were suitable for sale so that they could become a financial source for the operations of Islamic boarding schools to become independent, cheap and prosperous Islamic boarding schools..
The method of implementing this PKM refers to the concept of the teaching factory above, namely developing 3 components of the teaching factory, namely students, classrooms and laboratories, industry. The stages of development of the three components are as follows:
Industry
To bring an industrial atmosphere in the classroom, the PKM team will:
create a formal trade institution marked by the issuance of a Trade Business License from Dinas Perdagangan Kabupaten Karanganyar.
Make a t-shirt screen printing business nameplate and graphic design
Marketing students' works through online media
Classes and laboratories
In order for classes and laboratories to support the implementation of the teaching factory, the PKM team will:
Design and build the equipment needed to produce quality products so that they become products worth selling. The equipment includes PC computers, screen printing tables, screen spray tables.
Student
So that students can understand the implementation of the teaching factory, the PKM team will:
Conduct training and counseling on the implementation of the teaching factory to students, teaching staff and boarding school managers.
Conduct counseling about the importance of discipline, quality awareness and market orientation.
Documentation: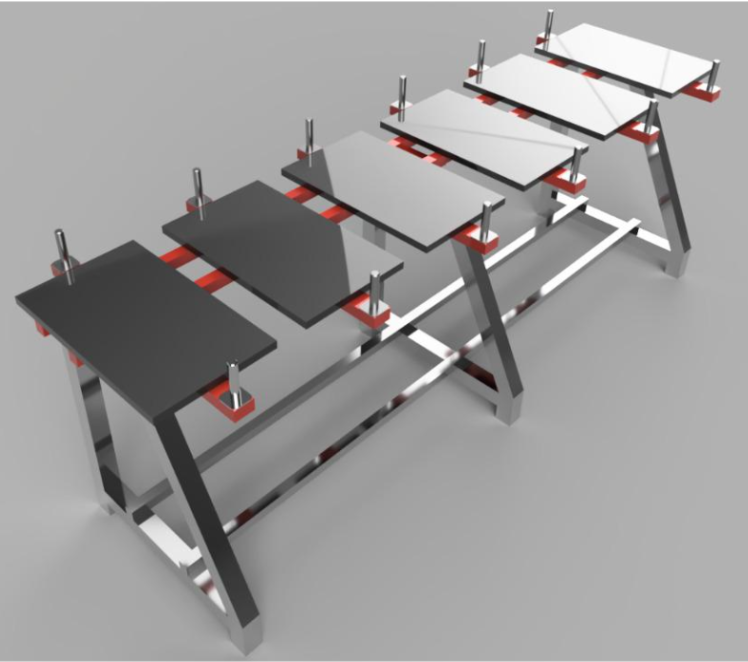 Screen printing table design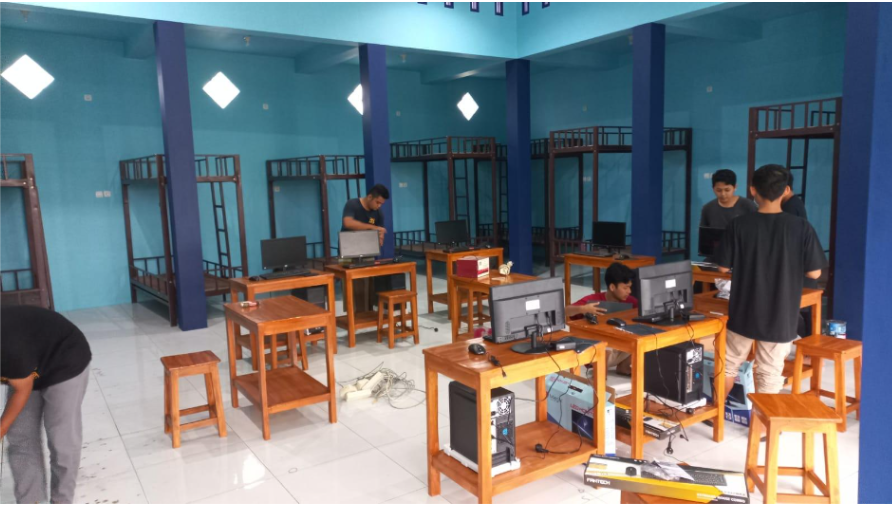 Facilitate classrooms with desks and chairs and computers for graphic design

Mock up t-shirts and advertising flyers distributed by students on social media